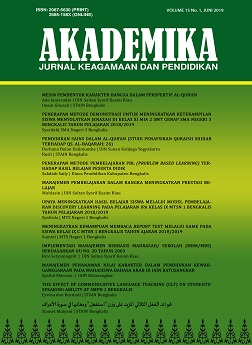 Akademika: Jurnal Keagamaan dan Pendidikan
Akademika is a journal published by STAIN Bengkalis. Akademika, Religious and Education Journal, a scientific periodical specializing in the Islamic Studies and Local Wisdom, especially Malay culture. Published twice in one year every June and December. Inviting observers, researchers and professionals to contribute the paper that focus on the Islamic Studies and Education to be published and disseminated to the public. The contribution of the paper will be selected through a mechanism of review of bestari partners and strict editing.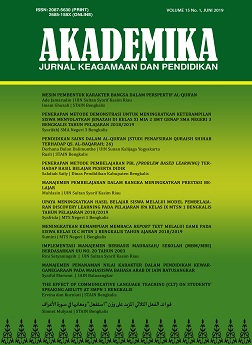 KAISA: Jurnal Pendidikan dan Pembelajaran
KAISA: Jurnal Pendidikan dan Pembelajaran terbit 2 (dua) kali setahun pada bulan Maret dan September, berisi tulisan/artikel hasil pemikiran dan hasil penelitian yang ditulis oleh para pakar, ilmuwan, praktisi, dan pengkaji dalam disiplin ilmu kependidikan dan pembelajaran.
KAISA: Jurnal Pendidikan dan Pembelajaran diterbitkan oleh Jurusan Tarbiyah dan Keguruan STAIN Bengkalis.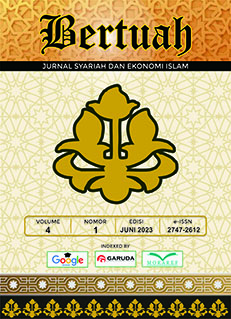 BERTUAH: Jurnal Syariah dan Ekonomi Islam
BERTUAH is a journal that aimed at spreading the research results conducted by academicians, researchers, and practitioners in the field of Syariah and Economy. The journal is published periodically twice a year, i.e., every April (first edition) and October (second edition).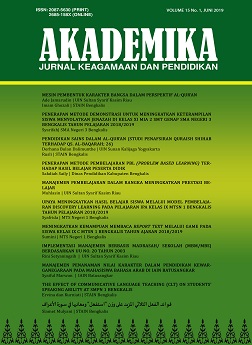 Matlamat Minda
Matlamat Minda is an academic journal published twice annually (June-December) by Dakwah and Communication Faculty of State Islamic University Bengkalis. This journal publishes original researches in multi concepts, theories, perspectives, paradigms and methodologies on da'wah studies related to social and cultural context in Indonesia.
The study focus of Matlamat Minda are (but not limited to):
Islamic communication/public speaking (Tabligh)
Islamic counseling (Irsyad)
Da'wah management (Tadbir)
Islamic community development (Tamkin).
Every received article should follow Author guideline. Any submitted paper will be reviewed by reviewers. Review process employs Double-blind Review that the reviewer does not know the identity of the author, and the author does not know the identity of the reviewers.
Al-Marjan: Journal of Islamic Family Law
Al-Marjan: Journal of Islamic Family Law, published by Departmen of Islamic Family Law, Faculty of Sharia and Islamic Economy, State Islamic University Bengkalis 2019.
The subject covers textual and fieldwork studies with various perspectives of Islamic Family Law, Islam and gender discourse, and legal drafting of Islamic Civil law.
Al-Marjan: Journal of Islamic Family Law, published twice a year in Mey and November that always places Islamic Family Law, Gender Discourse, and Islamic Civil Law in the central focus of academic inquiry and invites any comprehensive observation of Islam Family Law as a normative Islam and a system of society and Muslims as those who practice the religion with their many facets.
Authors who want to submit their paper to the Al-Marjan: Journal of Islamic Family Law should obey the writing guidelines. If the paper submitted is not appropriate with the guidelines or written in a different format, it will be rejected by the editors before further reviewed. The editors will only accept the paper which meet the assigned format.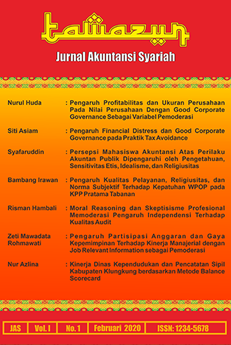 TAWAZUN: Jurnal Akuntansi Syariah
TAWAZUN Jurnal Akuntansi Syariah is the national journal published by the Department of Islamic Accounting of STAIN Bengkalis. The goal of the journal is to cover topics that are to promote the development and extension of Islamic accounting, management, and business to provide a deep-understanding in its widest sense. Accordingly, papers that focus on emerging and interdisciplinary topics are encouraged. The Journal is a blind reviewed that is published twice a year in June and December.
TAWAZUN particularly focuses on the main topics in the development of the sciences of Islamic accounting, management, and business areas. It covers Islamic accounting, public sector accounting, management and business in Islamic perspective, Islamic financial institution, Islamic microfinance, Zakah and Waqf accounting, Good corporate governance, Intellectual capital, Corporate social responsibility, Islamic capital market, Islamic accounting engineering.