MAISHA : Jurnal Ekonomi Syariah
| | |
| --- | --- |
| Journal title | MAISHA: Jurnal Ekonomi Syariah |
| Initials | MAISHA |
| Frequency | 2 issues per year |
| Editor-in-chief | Al Ma'rif,  STAIN Bengkalis |
| Publisher | Prodi Ekonomi Syari'ah |
MAISHA : JURNAL EKONOMI SYARIAH, published by Study Program of Sharia Economics STAIN Bengkalis since 2016, can be said as new academic journal dealing with the theme in Indonesia. The subject covers textual and fieldwork studies with various perspectives of Islamic economics, Islamic public finance, Islamic finance, Islamic accounting, Islamic business ethics, Islamic banking, Islamic insurance, Islamic economic thoughts, Islamic human resource management, Islamic microfinance, Islamic development economics, Islamic monetary economics, Islamic fiscal economics, Islamic capital market, and other relevant themes. Thus, Indonesian and non-Indonesian scholars have enriched the studies published in the journal. Although not from the beginning Maisha : Jurnal Ekonomi Syariah presents highly qualified scholarly articles, improvement—in terms format, style, and academic quality—never ceases. Now with articles written in Indonesian, Arabic, and English and with the fair procedure of peer-review, Maisha : Jurnal Ekonomi Syariah continues publishing researches and studies pertinent to Islamic finance and economics with various dimensions and approaches.
View Journal | Current Issue | Register
Matlamat Minda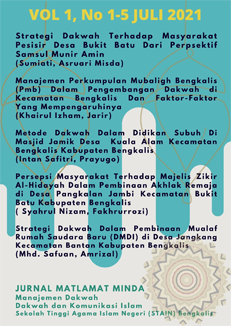 Matlamat Minda is a peer-reviewed, scientific journal published by Department of Da'wah Management, Faculty of Da'wah and Islamic Communication, Sekolah Tinggi Agama Islam Negeri (STAIN) Bengkalis, Indonesia. The aim of this journal is to publish high-quality articles dedicated for the field of da'wah management. The scope of the journal includes dakwah management, da'wah strategies, da'wah administration, Hajj and Umrah management, zakat management, donations and alms, and Islamic Financial Management.
Jurnal Manajemen Dakwah  is published twice a year in July and December. Submissions are open year-round. Before submitting, please ensure that the manuscript is in accordance with Jurnal Manajemen Dakwah's focus and scope, written in Bahasa Indonesia or English, and follows our author guidelines and manuscript template. 
Each edition contains 5 (five) articles. The submitted article must meet the assessment criteria and in accordance with the instructions and templates provided by Matlamat Minda. Paper must be sent to Open Journal System (OJS) with .doc or .docx format. The entire process until Matlamat Minda is published will be free of charge. Matlamat Minda is registered in National Library with Number International Standard Serial Number E-ISSN 2807-6753
View Journal | Current Issue | Register