Akademika: Jurnal Keagamaan dan Pendidikan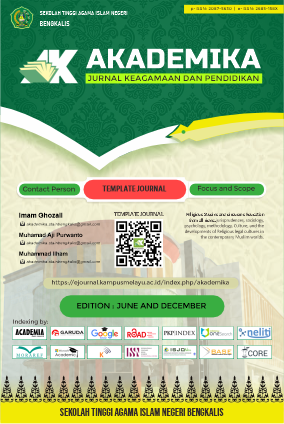 Akademika is a journal published by STAIN Bengkalis. Akademika, Religious and Education Journal, a scientific periodical specializing in Islamic Studies and Local Wisdom, especially Malay culture. Published twice in one year every June and December. Inviting observers, researchers, and professionals to contribute the paper that focuses on Islamic Studies and Education to be published and disseminated to the public. The contribution of the paper will be selected through a mechanism of review of bestari partners and strict editing. Akademika is registered in National Library with Number International Standard Serial Number (ISSN) Printed: 2087-5630  and Online 2685-158X.
View Journal | Current Issue | Register
Al-Marjan: Journal of Islamic Family Law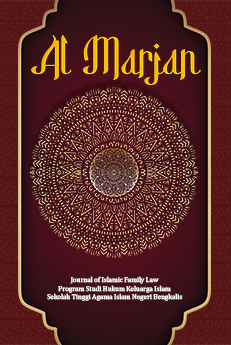 Al-Marjan: Jurnal Hukum Keluarga Islam is published twice a year (June and December) by Al-Marjan Research Centre of the Department of Islamic Family Law, Sekolah Tinggi Agama Islam Negeri Bengkalis since 2022. Al-Marjan always places Islamic Family Law, Gender Discourse, and Islamic Civil Law in the central focus of academic inquiry. 
View Journal | Current Issue | Register